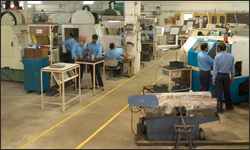 PRAJNA (India) is an ISO 9001:2008 certified Contract Manufacturing company producing CNC Machined Parts. Locatedin an Industrial Suburb near New Delhi, India, the factory has a manufacturing space of 425 Sq. M.
CURRENT PRODUCTION
Since January 1996, we have been producing Turned and Milled Components in small batches with Accuracy grade IT-6 for export to international customers including a large equipment manufacturer in Japan. Strict Quality Control procedures and Timely Deliveries have ensured repeated and increased orders.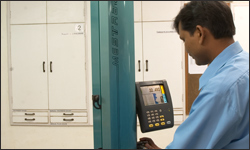 EXPERIENCE
The CEO has been in this business for more than 25 years, having managed the production of a wide variety of Machined Components ranging from high volume automotive components to low volume precision parts like Rolled Manganese Steel Pins and Bushings for the Indian Railways, Super Alloy Spinner Discs for Glass Wool Manufacture and Aluminum Hydraulic Door Closer Bodies.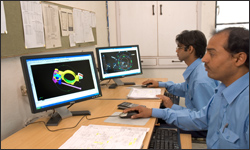 PRODUCTION OPERATIONS
We specialize in Small Batch Production. Our well-trained workers have more than 10 years experience on parts requiring different machining sequences and various types of Surface Treatments.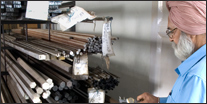 RAW MATERIALS
We work with Mild & Carbon Steel bar stock, forgings and flame-cut plate. All Raw Material is tested before it is stacked with batch numbers and finally issued for production. Material Test Reports are sent along with dispatch documents.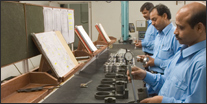 QUALITY
Strict checking of dimensions, geometry and surface finish by our inspectors results in proper Quality Assurance. Consistent inspection results are ensured by periodic gauge calibration. Sampling plans and data recording is done as per customer requirements. The recorded data sheets are sent along with dispatch documents.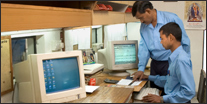 DELIVERY
To ensure our ability to meet delivery requirements, we use a sophisticated spread-sheet analysis to assess capacity while accepting orders and also to monitor production status relative to shipping dates. Our delivery rating by our current customers is 5 on a scale of 5.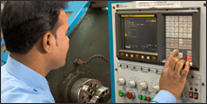 COMPETITIVE PRICES
At PRAJNA (India) you have the advantage of an experienced and well-trained work force manufacturing good quality parts at low hourly rates, thereby making your product cost-effective. Our experience and record ensure a competitive price without compromising on quality.